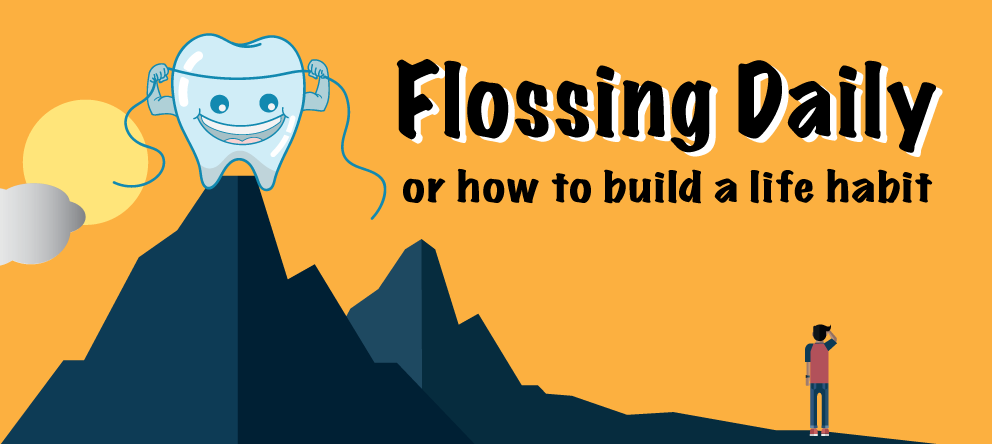 Floss. A plastic box of string, unused yet lingering in the bathroom since you last visit to the dentist. Its mint-tinted flavor is an artifact of our human health progress. Floss, its presence a guilty reminder that you should floss. Your dentist says. The internet says. Your mom says.
But you don't. You don't floss.
Most people don't floss regularly. According to an oral health survey by the American Dental Association, "Only four of 10 Americans floss at least once a day, and 20 percent never floss."
We also lie about our flossing habits. In a report from NPR, nearly one out of four "lie to their dentists about how often they floss their teeth."
So you don't floss and maybe you even lie about it from time to time. I've been there.
While I'm a goal-driven and productive dude, I too have struggled on multiple attempts to floss regularly. About three months ago, "floss daily" came up in my list of positive habits I should work on. I once again decided to build this habit into my routine. Fortunately three months later I can claim to have successfully incorporated flossing into my daily routine. According to my records, I've flossed daily for 90+ days.
There were three basic techniques I used to start and continue flossing regularly: 1. habit chunking, i.e. the process of combining new activities onto existing habits, 2. activity tracking wherein I track if I did the thing I've set out to do, and finally, 3. enjoy and experience the moment. Along with a couple of interesting tweaks, I become a daily flosser.
Here is how I did and what I've learned about flossing and daily habits. Here's how you can learn to floss daily (or build any habit for that matter).