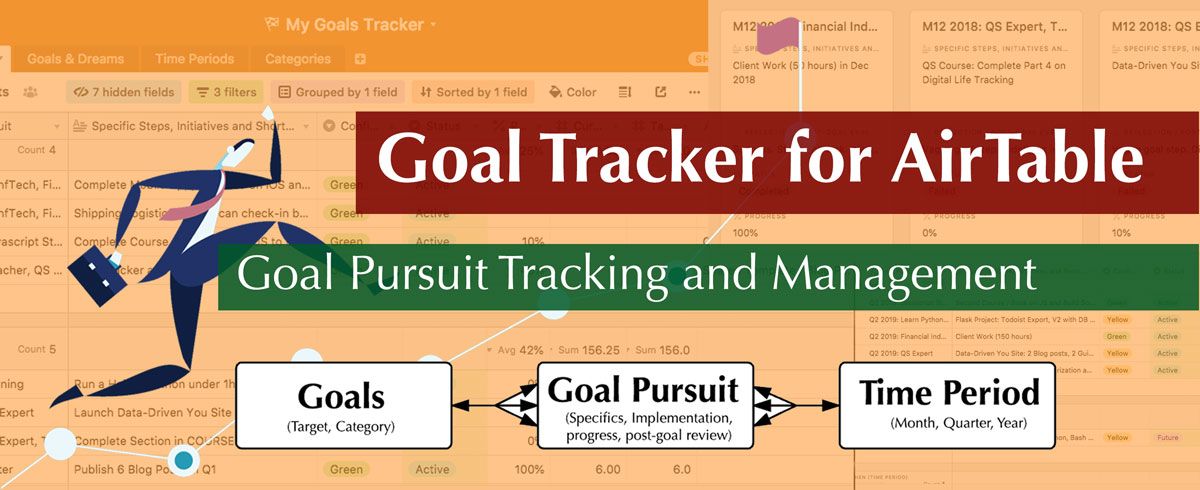 Having a goal is easy and exciting. But goals only get accomplished when you pursue them, not because you simply make them. So, if you want to improve your goal attainment, arguably one of the most important goal action steps you can do is to convert your goal intentions into goal pursuits.
What is a goal pursuit and how to track it?
I define a goal pursuit like this: Goal Pursuit = Goal + Time Period + Specifics
Obviously, there is more to this formula and to pursuing goals, but this gets us to a few of the essentials when it comes to both the science of goals and how to think about organizing and managing your goals over time. It also gets to a framework that allows for tracking your goal pursuits too.
Let's break this down a bit:
A goal or goal intention is the thing want. It might be quite specific ("Run a marathon under 4 hours"), or it might be quite abstract ("Become a recognized expert in XYZ domain"). But generally a goal is an object of desire that lacks the defined steps on how you will get there. It's the fantasy target.
By contrast, a goal pursuit represents a state change. It's no longer just an idea or object of desire; it is a thing you are working on.
The time period just means we've stated an expansive of time when we will pursue that goal. Even better is if you state a habitual time and place.
The specifics of your goals means you've stated exactly what you plan to do to move towards that goal and ideally made it something you can measure. Being more specific when you set a goal is one of the key activities to improving the success and performance of your goals
Practically-speaking a goal pursuit takes form once you take your abstract goal and get specific about how you'll get there. Scientists call this the "goal decision" or "goal striving." Intuitively there is something different between wanting something abstractly and actually doing it. This is the difference between a goal fantasy and goal pursuit.
The science of goals pushes us both to think about goals and goal pursuits as multiple step endevours and to apply science-backed strategies at key junction in our striving. According to the Goal Setting Theory, the best technique in a goal pursuit is get specific and set an exact, targetted, measurable and difficult initiative to work on. According to the well-research technique of implementation intentions or if-then plans, one effective goal practice is to set the how, the when, and the where so you figure out a cue or trigger, like a place or time and then mentally link it to the goal behavior you want to induce.
How might we go about organizing, managing, and even tracking our goals and goal pursuits?
As a long-time self-tracker and proponent of the data-driven life, goals have proven a rather elusive area to track. While it's relatively easy to track many aspects of our lives from books read and tasks completed to miles run and time on devices, tracking goals proves difficult for two reasons:
First, we often think of goals as just a list of things we want, so it feels like there isn't much to track. Just make a list and check them off when you complete them.
Second, when we do attempt to track our goals, we often limit our thinking about tracking goals to something measureable. We come up with some related output of our goals, like miles run, time, habits, etc. A tool like BeeMinder is a good example of a tool that tracks an underlying output metric and helps us view our goal progress accordingly. While this can be a good technique for some goals, it actually isn't tracking goals as a process or cycle of action steps. What we want is a goal tracker that tracks much more than a single metric.
Goals are more than just a list of wishes we hope to get and more than a single definable metric. Goals exist the nexus of our goal intentions and specific goal pursuits over time. Goals often go through a cycle of setting, pursuing and reviewing. There are steps forward and steps back and a lot of figuring stuff out. What we want to track and manage is this long-term cycle of goal pursuits over time. And, as far as I know, there isn't a complete tool available today that lets us manage and track our goals as multi-stage pursuits.
So in order to solve this problem and apply techniques from the science of goals, I'm excited to share a tool I've built to help you better track and manage goals.
Using Airtable, which is a mix of a spreadsheet application and a database, I've created a goal tracker that allows me to keep an on-going list of my goals and dreams and to convert those into periodic goal pursuits that I further track, manage, and optimize. Additionally, the flexiblity of AirTable allows you to apply some of the most actionable and effective techniques from the science of goals. This means we are not only tracking what's happening but we are applying powerful strategies to get better at reaching our goals.
In short, Goal Tracker for AirTable is a free tool that helps you organize, manage and track both your goals list and your goal pursuits.
Goal Tracker provides a simple way to record all of your current, past and future goals. You then use these goals to formulate goal pursuits. You can think of goal pursuits as a short-term goal, initiative or project. Goal pursuits link those goals to a time period and allow you to get specific about what you'll do. For example, if your goal is "run a marathon," then your goal pursuit might be "May 2018 (Run Marathon): Complete 10 training runs, run 100km, and complete a half marathon."
Using the tool, you now have a list of goal pursuits so you can better organize and visualize over time. Goals are a struggle and will fail, but having a tool to organize and track allows you better stay on top of the process. You are not only pursuing a goal but also optimizng the meta-skill of managing goals. By consistently linking goals with a specific initiative in a certain time frame, you have effectively applied several key techniques from the science of goals too.
Get Goal Tracker for AirTable Now
Goal Tracker is a free tool you can download for AirTable. I have no affiliation with AirTable. I just think it's a cool tool that works well for flexible information management and for prototyping goal and project management tools like these. Feel free to customize, add or tweak and, of course, send me your thoughts, feedback and areas to improve! Additionally, if you prefer another tool, I think you can accomplish the same style of goal tracking using just simple files or another spreadsheet app.
In the rest of post, we are going look at the core features and usage of Goal Tracker for Airtable. We will first briefly look at AirTable, what it is and how it works. After that, our main objective is to get you up and running with using the tool to track and manage our goals. Along the way, I've included a few examples of customizations and deeper concepts related to how AirTable works and how it relates to both the science of goals and productivity principles for good goal management. Finally, I'll conclude by sharing my own motivation for building this tool and tips for the overly ambitious goal pursuer been using it.
Note: The psychology of goals lies at the heart of why I've been building and using this tool. I've purposefully left out too many academic references here to focus on the tool and usage itself. If you are interesting in exploring the underlying science, check out my on-going blog series on the Science of Goals.