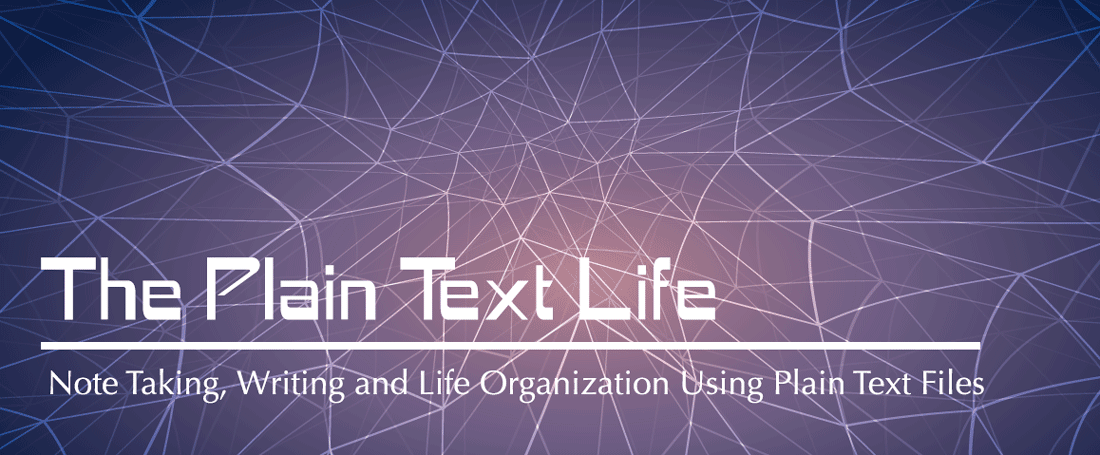 "The power of the unaided mind is highly overrated. Without external aids, deep, sustained reasoning is difficult."

Don Norman, professor and author of The Design of Everyday Things
External aids, especially writing, are the key to sustained learning and a creative life. The goal of your productivity, writing or note-taking systems should be to enable you to think clearly, stay organized, learn, and create. They should augment your ability to reason, to develop connections across knowledge, and produce a targeted output.
There are a lot of tools that can help you in this pursuit. We live in a world of nearly endless options for productivity and writing software. Personally, I've tried many. But sometimes the best solution is one of the simplest and oldest. For me, that solution was "downgrading" to plain text files as my primary means for note-taking, writing, knowledge management and life organization.
Rather than a fully featured notes or writing tool, I now have a bunch of plain text files and a lot of them. The files themselves are simple, can be edited on any system, and are future-proof. I write in markdown. I use plain text files not only for my writings, study notes and note-taking but also for my goals, organizational, project notes.
I call this method and approach a plain text life, by which I mean a note-taking, organizational, and writing system based on plain text files.
The files and notes themselves have been intentionally designed to be "organized" as network of information. Practically-speaking this translates into notes stored in a few directories, tagged, and connected together using a links. The end result is a loosely-coupled web of notes. It's evolving, has emergent properties and is trackable too.
This setup helps me focus on what matters: writing and keeping my projects, ideas and thinking organized and interconnected.
In this post, I want to share my take on the "plain text life" and how using plain text files and combination of tools, best practices, and organizational principles can unlock a powerful and efficient framework for writing, thinking, note-taking, project management, goal tracking, or whatever you are working on.
This post is divided into four sections with four questions:
Why plain text files and what are the current limitations?
What tools can I use for writing and managing plain text files?
How to stay organized?
What are my notes for and how to organize towards my creative, learning or organizational goals?
At its core the plain text life is just a just a bunch of text files, but hopefully you too can assemble a powerful framework for staying organized, writing, learning and creating.
Let's get started exploring a plain text life!
NOTE: For a how-to post on migrating off of Evernote, check out Post-Evernote: How to Migrate Your Notes, Images and Tag into Plain Text Markdown.