What can one learn from a year in data? What lessons and observations can be drawn from tracking a life?
Before jumping into the analysis, here are three "teaser" data visualizations and questions that data helped me notice and answer from the last year: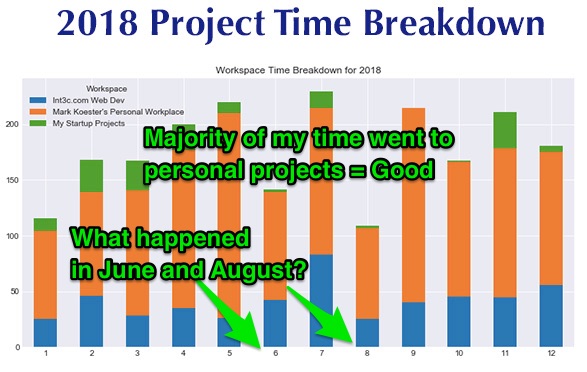 The majority of my manually logged time went to personal projects in 2018, which is great. I still maintained decent client, freelance income, but my focus remains on own stuff and businesses. . If these are your goals, this is where your time should go. But happened in June and August? Both months saw a decent time log drop. Both months had me speaking and attending more conferences as well as more travel, including a week long trip with friends to Tibet and aroudn Sichuan. My sleep tells another story though too

I slept on average 7.23 hr per night in 2018, but what happened starting in mid-June? Why did my sleep average drop? World Cup! Like many I stayed up later and drank a bit beer more as I enjoyed an epic month of football action. Ironically other areas also dropped too. I wrote less and had less workouts. See below for the specific charts.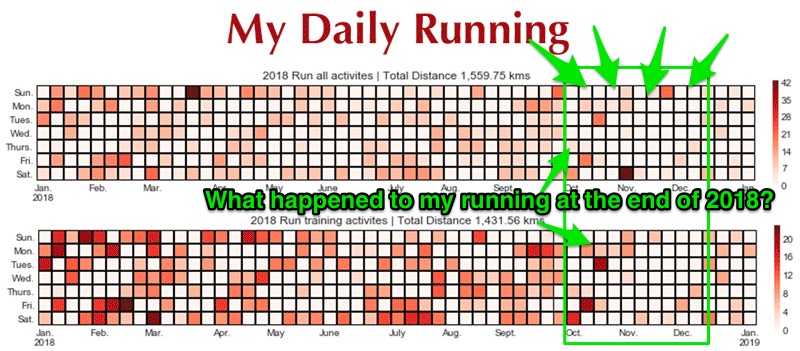 I had a relatively consistent year of running in 2018, until the last quarter of the year? What happened? Suddenly my run training load dipped signficantly. This was due to a series of minor to a bit more major injuries, and I couldn't train. What was the cause? Below I examine a series of other tracked data points and currently my working hypothesis is one contributing factor was a decrease in both mobility/stretching and strength training.
These are three data visualizations I created using simple but regular self-tracking and data collection data visualization using QS Ledger. If you are interested in creating similar charts or becoming more data-driven in the year ahead, signup for my newsletter to receive early access to my course, Google Data Studio for Quantified Self and the Data-Driven Life in early 2019.
Now on with the show!
My Data-Driven Annual Review
Annual reviews are a staple of goal-directed people, and it's something I like to do myself. But in view of my central thesis that data can be used to improve human lives, I like to go a bit beyond just nostagic reflection or hopeful and strategic aspiration. I like to fuel my year in review with data.
Let me tease out my core belief briefl here, We have now enough cheap technology, sensors, small computers (i.e. phones and wearables) and cloud storage to enable both tracking a lot of areas and storing a huge amount of data on a life. This activity is often grouped under monikers like quantified self, self-tracking, personal infomatics, or the data-driven life.
Basically, it's people collecting data on a life and trying to use it. Quite simply, I can and should use data and self-tracking so our lives can be better understood and improved. This is data-driven personal development 101.
So, it's with those goals and hopes in mind, I'm happy to share the latest edition of my year in data!
This year's report includes a look at how I wrote, my computer usage time and project time, my trends in tasks completed, books and articles read, my fitness efforts, and a bit of my photos taken on my phone. For health, I place an emphasis on running but also have some general health and wellness data on sleep and HRV too. Obviously there is a ton of data one might use to slice and dice and tell your year in review story. I choose these since they matter to me and are relatively accessilble to anyone to track.
One bonus this year is that, unlike last year's year in data, I'm also open sourcing and sharing all of the code I used to create these graphics. So for anyone with a few technical skills and some time, you too can build your own data-driven year in review. Morever with a few tweaks you can change the look and feel or make additional observations and analysis too. You can find the code at QS Ledger, and I've shared a few of the specifics on how to do this at the end of the post.
Hopefully by the end of the next year, I'll have a web or mobile app to make it even easier for anyone to do and even create a full-on book about your year… using data.
Let's take a look at the story of my year in data!
(NOTE: While outside of the scope here, I have also done some work on a deeper statistical analysis and machine learning approach to using this data. For now I'll have to leave that topic for a future write-up. )