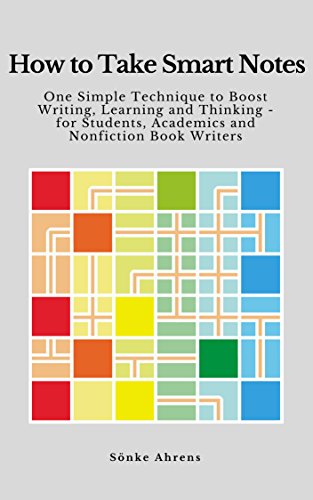 The first step in nearly "every intellectual endeavour" is to take a note. Writing notes is critical for how we learn, develop ideas and ultimately, create, and if you want to become a better writer or creative of any type, you need a better system and process for your notes.
Those ideas (take smart notes and build a connected, personal system of smart notes) are the central arguments of "How To Take Smart Notes" by Sönke Ahren, a book I recently read and have become somewhat obsessing over. Inspired by Niklas Luhmann (1927-1998), a well-known German social scientist and his method for managing his research and writing, Ahren explores how to be more productive, creative and organized using a system of deliberate note taking.
With over half of doctoral dissertations going unfinished (Lonka, 2003), Ahren's main focus is on the organizational and creative problems of academic and nonfiction writers, and while the target audience is thesis writers, the lessons go well-beyond academia. I'd even argue that this provides one of the missing pieces to David Allen's "Getting Things Done" method of productivity (Allen, 2001).
Throughout the text, Ahren argues for the importance of developing a special habit of note-taking and creating "smart notes." Smart notes are a form of "learning through elaboration", meaning we learn by putting complex ideas in our own words and by connecting them to other ideas. Smart notes are not just another way to collect stuff; their aim and goal is to foster and support creative and innovative output.
Based on these permanent, insight notes, we assemble a "knowledge management system" (my term) that he calls in German the Zettlekarten or in English the slip-box. It could also simply be called an archive. Ahren goes on to provide a tactical guide for developing and leveraging this interconnected knowledge system of smart notes throughout any creative project and ideally throughout life in general. Since smart notes form the nexus for what interests us, our organized thinking and on-going discussion questions, it's both fodder for thought and where our writing should beginning.
Though technical and very specific at times, the book was a highly enjoyable read as Ahren journeys through processes underlying human learning, thinking, productivity and creativity. I highly recommend it for anyone interested who regularly writes (whether fiction or non-fiction) and for anyone who strives to better organize their knowledge and pursue innovation and creativity in any project.
Here are a few of the book's key points that struck me in my reading and that I'm hoping to bring into my own learning and creative processes.