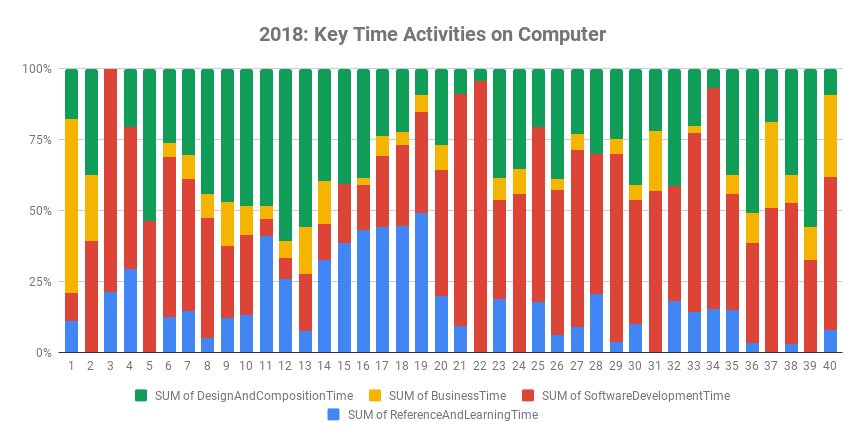 RescueTime is one of my favorite ways to track my life. It's a great passive way to know where your time is going on your computer. But how to collect your data and what to do with all that data once you get it?
Increasingly I've been using various automation services as one of my data collection methods. While you can use manual exports or code like QS Ledger to collect data from different tracking services, an automation service like IFTTT can automate the data collection. That way all of your data is stored into Google Sheets for easy access and even simple data visualization and data analysis.
Once your data is in Google Sheets, you can leverage custom functions and App Script to process and prepare that data. In turn, the ubiquity of Google Sheets means it's easy to then pull data from there into your favorite visualization tools like Google Data Studio, Tableau or Plot.ly.
I see a lot of value in time tracking and time data. Personally, I started to track using time tracking tools when I become a freelance developer several years. Over time I discovered how time tracking made me conscious of my time usage, I learned to use time data in my weekly reviews and even explored a year of time tracking too.
In this post, I want to walkthrough setting up a simple time tracking dashboard with RescueTime, IFTTT and Google Sheets. First, we will use IFTTT for data collection from RescueTime into Google Sheets. We will then leverage some code in Google App Script to process and prepare our data. We will use some custom functions in Google Sheets to create some time dimensions from our date field. Finally, we will use some simple pivot tables and charts to do some personal data analysis. We are turning our tracking data into improved self-understanding.
The goal of this post show you some advanced functions for data processing inside Google Sheets. You'll learn how to add and leverage custom code with Google App Scripts to extract information and do calculations. I'll show you how to use array formulas to process columns of data in bulk. Finally, once we've done the hard technical work of data processing and data preparation, you'll discover how easy it is to do some personal data analysis using pivot tables and charts and graphs.
Hold on to your spreadsheets. Let's get started with some advanced data processing with Google Sheets!