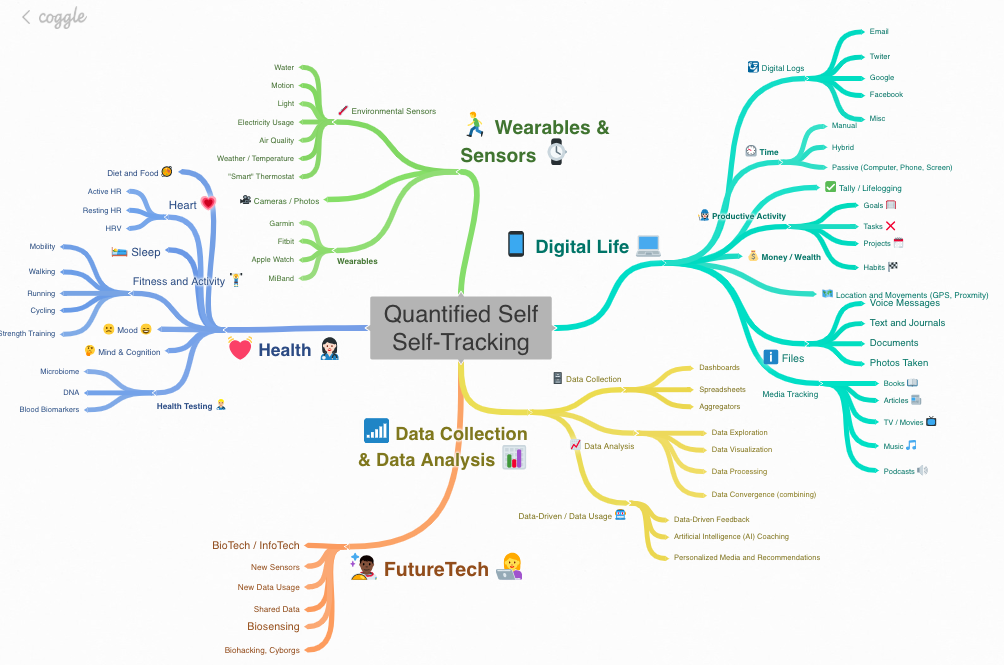 With so many quantified self tools and ways to track a life, it can be a bit confusing. A mind map can help.
A mind map is a graphical, visualization technique that is intended to help with structuring, organizing and understanding information as well as facilitate creative thinking. It's is also one of the best ways to synthesize and understand information in general.
Here's my mind map of the quantified self and self-tracking space. The intention is to help you conceptualize the overall tracking technologies space as well as hopefully enable you to better track different aspects of your own life and, in turn, engage with your personal data accordingly.
In the rest of this post, I want to explain the motivation behind the project and briefly walk through why I've categorized things accordingly.
One of the principal points I want to make is the division I make between tracking or data collection AND data engagement or being data-driven. While we might obsess about how to track an area, we often fail to take the time to engage with the data we are collecting. For me, one of the key motivations for self-tracking is not data collection but using data to provide a feedback loop towards what I'm trying to understand or a goal I'm trying to reach. This is really only possible if you engage with whatever you are tracking.