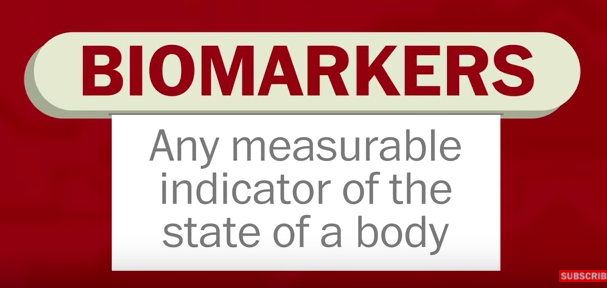 When it comes to making improvements in your life, it helps to have some indicator of how you are doing. This is especially true when it comes to your health and wellness but it can apply to anything in our life.
When you think about indicators of your health and wellness, we use the term "biomarker," which is short for biological marker and in its simplest definition stands for anything measurable that can indicate something about our health.
Alternatively in other contexts like biology (and outside the scope of this article), the term "biomarker" refers to substances that indicates something is alive or living organism. For our purposes, we are looking at biomarkers as indicators of either health or disease.
Biomarkers are in many ways the key to understanding our health, since biomarkers act as an indicator of the presence (or absence) underlying disease states. On an individual level, they also act as benchmark to one's optimal health but also as a way to measure the effectiveness of a new drug or therapy.
Here are a few examples of biomarkers: LDL Cholesterol, Blood Pressure, Heart Rate Variability (HRV), Vital Capacity, VO2 Max, etc. Each of these can be used to understand your health status and predict risk of certain diseases.
While many biomarkers have been found and are well-researched and documented, biomarker discovery remains an active field in medicine and pharmaceutical industry since blood tests and biomarkers can serve as intermediate markers of a disease in clinical trials and help understand if a drug (or drug target) is effectively treating that disease.
In this on-going series of posts on blood tracking and biomarkers, we are looking at how blood tests and other biomarker data can be use to to help self-trackers and people in general understand their health. In the first post we looked at Benefits of Blood Testing and, in the second, we looked a project created to curate and catalogue the most common blood tests and biomarkers.
In this post, I want to take a step back and try to better define what are biomarkers and understand why they are so important. Specifically why are biomarkers the key both to the medical field and to us as individual humans trying to live well. While the stated goal is to live longer, healthier and more productive lives, I also simply want to have indicators of where I am on the health journey too. Finally, we will conclude by looking at how biomarkers in general and health tracking can be integrated in order to use them as a reliable feedback loop. The goal of health tracking with biomarkers isn't just to collect data (health or otherwise), but to engage with those health metrics so it informs our decisions and leads to appropriate changes. Hopefully we can better understand what are biomarkers and how to leverage them in your own data-driven health journeys.